Les Cunningham, CGC, CR, CCR, CGRa | Business Networks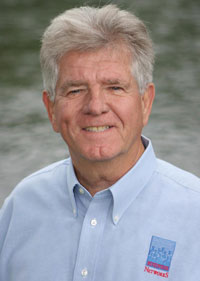 EDUCATION: University of Miami with a chemistry degree. Les worked as a schoolteacher out of college in 1966. He then joined the United States Air Force completing pilot training, serving five years as a pilot in North America and Southeast Asia. After serving his tour of duty in the service, he went to work as an airline pilot in January 1971. Within two months, he began looking for something to fill up his large amounts of spare time.
EXPERIENCE: Had own remodeling company for 15 years. In July 1971, he entered the industry by starting a small remodeling company. By 1976, the company was the largest remodeler in the area, employing approximately 35 people. In 1978, the company entered the COTY Awards Competition and won Commercial Contractor of the Year. They went on to win 14 more COTY Awards totaling 15 over the next 7 years. As a result, he was able to start a local NARI Chapter, serving as its first president. At the same time, he became involved at the national level of NARI and started working on the education committee. He was involved in developing the CR & CCR programs and the Convention Seminar Programs. In 1978, Les pioneered the idea of getting together with other remodelers from non-competitive areas around the United States and was the first host of the group. That group began with Les' company and five other companies.
EXPERTISE: Numbers, software's that work for construction companies JPP/POI trainer, competent in all phases of business. Has been a facilitator for 25 years—was the original BN facilitator, and mastermind of the idea.